Vimeo videos can be placed in any place of your magazine.
Note: It is assumed that you're currently in the Editor workspace. For more info how to get there, click here.
Step1. Click on Media Tools from the left toolbar and select Vimeo Tool.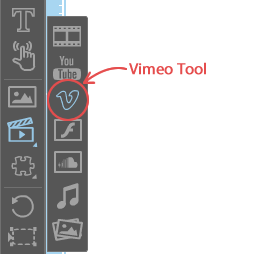 Step2. Enter or paste the Vimeo URL and click the Add button.
Note: The URL must contain the ID number, if it doesn't, please add it manually. You can find it in the video's sharing HTML code in Vimeo.

Step3. Place the video wherever you wish by drawing a rectangle on the Drawboard.
Step4. Save the page and you're done!