Joomag provides various ways of presenting publications online, making the reading experience as customizable as possible.
By default the publications are displayed in a "magazine" format, replicating the real-life page flipping experience. However this can be customized and changed. For doing that, follow these steps:
Note: It is assumed that you are in My Magazines.
Step1. Select the magazine you wish and click the Edit Settings button.

Step2. Go to the VIEWER tab and find the Viewer Mode option. Choose the option you are looking for.
Flipping - This effect permits you to turn the pages of the magazine manually, representing the actual page flipping effect and giving the advantage to the user with the unique experience of reading an actual printed magazine.
Sliding - This effect lets you slide the pages of your magazine from right to left and vice versa. It adds a dynamic flair to the magazine, smoothing the transition between pages.
Page per page - This effect permits you to show one page at a time, giving a unique style to your magazine.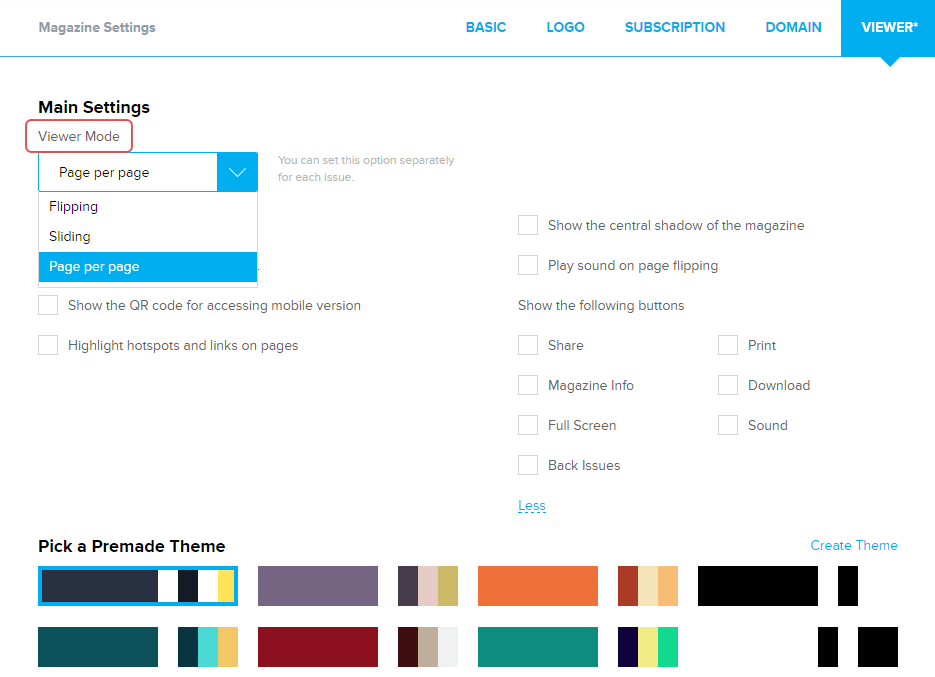 Step3. Click the SAVE AND CLOSE button when you're done.
Note: This feature is only available with our Premium Accounts.