Audio players can be placed in your magazine by following these steps:
Note: It is assumed that you're currently in the Editor workspace. For more info how to get there, click here.
Step1. Click the Media Tools from the left toolbar and select Sound Tool.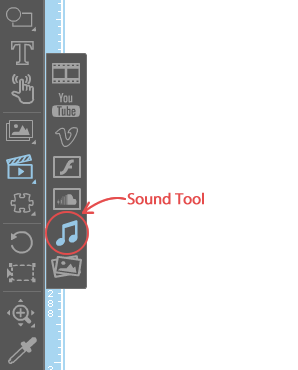 Note: At this moment we support only MP3 format, but there are many programs in the market which convert from popular music formats to the MP3 format.
Step2. Choose the audio file that you would like to place and click the Place button. In case you don't have any audio file, upload one! For uploading audio files click here.
Step3. Place the audio player wherever you wish by drawing a rectangle on the Drawboard.
Step4. Save the page and you're done!
Note: You can also do the same procedure directly from the Library, which is located on the right toolbar.